Comptia Training - Training For Africa
CompTIA Certifications
CompTIA has four IT certification series that test different knowledge standards – from entry-level to expert. Still exploring your options?
Find which certifications are right for you.

CompTIA IT Fundamentals (ITF+)
CompTIA IT Fundamentals (ITF+) is an introduction to basic IT knowledge and skills.
Why is it different?
CompTIA ITF+ helps professionals to decide if a career in IT is right for them or to develop a broader understanding of IT.
ITF+ is the only pre-career certification that helps students or career changers determine if they have a competency for information technology and if it is the right career path for them.
ITF+ is the only single certification that covers all areas of IT foundations, creating a broader understanding of IT making it ideal for non-technical professionals.
ITF+ establishes an IT education framework for students in secondary and post-secondary settings.
About the exam
The CompTIA IT Fundamentals exam focuses on the essential IT skills and knowledge needed to perform tasks commonly performed by advanced end-users and entry-level IT professionals alike, including:
Using features and functions of common operating systems and establishing network connectivity
Identifying common software applications and their purpose
Using security and web browsing best practices
This exam is intended for candidates who are advanced end users and/or are considering a career in IT. The exam is also a good fit for individuals interested in pursuing professional-level certifications, such as A+.
CompTIA A+
CompTIA A+ is the industry standard for establishing a career in IT.
CompTIA A+ certified professionals are proven problem solvers. They support today's core technologies from security to networking to virtualization and more. CompTIA A+ is the industry standard for launching IT careers into today's digital world.
CompTIA A+ is the only industry recognized credential with performance testing to prove pros can think on their feet to perform critical IT support tasks. It is trusted by employers around the world to identify the go-to person in end point management & technical support roles. CompTIA A+ appears in more tech support job listings than any other IT credential.
The CompTIA A+ Core Series requires candidates to pass two exams: Core 1 (220-1101) and Core 2 (220-1102) covering the following new content, emphasizing the technologies and skills IT pros need to support a hybrid workforce.
Increased reliance on SaaS applications for remote work
More on troubleshooting and how to remotely diagnose and correct common software, hardware, or connectivity problems
Changing core technologies from cloud virtualization and IoT device security to data management and scripting
Multiple operating systems now encountered by technicians on a regular basis, including the major systems, their use cases, and how to keep them running properly
Reflects the changing nature of the job role, where many tasks are sent to specialized providers as certified personnel need to assess whether it's best to fix something on site, or to save time and money by sending proprietary technologies directly to vendors
| COURSE | DAYS | PRICE |
| --- | --- | --- |
| Comptia A+ | | |
CompTIA Network+
CompTIA Network+ validates the technical skills needed to securely establish, maintain and troubleshoot the essential networks that businesses rely on.
Unlike other vendor-specific networking certifications, CompTIA Network+ prepares candidates to support networks on any platform. CompTIA Network+ is the only certification that covers the specific skills that network professionals need. Other certifications are so broad, they don't cover the hands-on skills and precise knowledge needed in today's networking environments.
CompTIA Network+ features flexible training options including self-paced learning, live online training, custom training and labs to advance the career development of IT professionals in network administration.
Security+
Security+ opens the door to your cybersecurity career! CompTIA Security+ is a global certification that validates the baseline skills necessary to perform core security functions and pursue an IT security career.
Why is it different ?
More choose Security+ - chosen by more corporations and defense organizations than any other certification on the market to validate baseline security skills and for fulfilling the DoD 8570 compliance.
Security+ proves hands-on skills – the only baseline cybersecurity certification emphasizing hands-on practical skills, ensuring the security professional is better prepared to problem solve a wider variety of today's complex issues.
More job roles turn to Security+ to supplement skills – baseline cybersecurity skills are applicable across more of today's job roles to secure systems, software and hardware.
Security+ is aligned to the latest trends and techniques – covering the most core technical skills in risk assessment and management, incident response, forensics, enterprise networks, hybrid/cloud operations, and security controls, ensuring high-performance on the job.
About the exam
CompTIA Security+ is the first security certification a candidate should earn. It establishes the core knowledge required of any cybersecurity role and provides a springboard to intermediate-level cybersecurity jobs. Security+ incorporates best practices in hands-on troubleshooting, ensuring candidates have practical security problem-solving skills required to:
Assess the security posture of an enterprise environment and recommend and implement appropriate security solutions
Monitor and secure hybrid environments, including cloud, mobile, and IoT
Operate with an awareness of applicable laws and policies, including principles of governance, risk, and compliance
Identify, analyze, and respond to security events and incidents
​​​​​​
CompTIA has four IT certification series that test different knowledge standards – from entry-level to expert. Still exploring your options?
Find which certifications are right for you.
CompTIA Data+
CompTIA Data+ is an early-career data analytics certification for professionals tasked with developing and promoting data-driven business decision-making.
What you'll learn with Data+
​​​​​CompTIA Data+ gives you the confidence to bring data analysis to life.
As the importance for data analytics grows, more job roles are required to set context and better communicate vital business intelligence. Collecting, analyzing, and reporting on data can drive priorities and lead business decision-making. CompTIA Data+ validates certified professionals have the skills required to facilitate data-driven business decisions, including:
Mining data
Manipulating data
Visualizing and reporting data
Applying basic statistical methods
Analyzing complex datasets while adhering to governance and quality standards throughout the entire data life cycle
CompTIA has four IT certification series that test different knowledge standards – from entry-level to expert. Still exploring your options?
Find which certifications are right for you.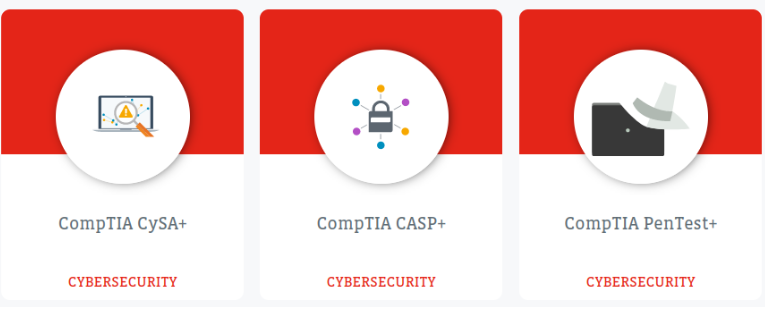 CompTIA Cybersecurity Analyst (CySA+)
CompTIA Cybersecurity Analyst (CySA+) is an IT workforce certification that applies behavioral analytics to networks and devices to prevent, detect and combat cybersecurity threats through continuous security monitoring.
Why is it different?
CompTIA CySA+ is the only intermediate high-stakes cybersecurity analyst certification with both hands-on, performance-based questions and multiple-choice questions.
CySA+ focuses on the candidates ability to not only proactively capture, monitor, and respond to network traffic findings, but also emphasizes software and application security, automation, threat hunting, and IT regulatory compliance, which affects the daily work of security analysts.
CySA+ covers the most up-to-date core security analyst skills and upcoming job skills used by threat intelligence analysts, application security analysts, compliance analysts, incident responders/handlers, and threat hunters, bringing new techniques for combating threats inside and outside of the Security Operations Center (SOC).
About the exam
As attackers have learned to evade traditional signature-based solutions, such as firewalls and anti-virus software, an analytics-based approach within the IT security industry is increasingly important for organizations. CompTIA CySA+ applies behavioral analytics to networks to improve the overall state of security through identifying and combating malware and advanced persistent threats (APTs), resulting in an enhanced threat visibility across a broad attack surface. It will validate an IT professional's ability to proactively defend and continuously improve the security of an organization. CySA+ will verify the successful candidate has the knowledge and skills required to:
Leverage intelligence and threat detection techniques
Analyze and interpret data
Identify and address vulnerabilities
Suggest preventative measures
Effectively respond to and recover from incidents
CompTIA PenTest+
CompTIA PenTest+ is for cybersecurity professionals tasked with penetration testing and vulnerability management.
Why is it different?
CompTIA PenTest+ is the most comprehensive exam covering all penetration testing stages. Unlike other penetration testing exams that only cover a portion of stages with essay questions and hands-on, PenTest+ uses both performance-based and knowledge-based questions to ensure all stages are addressed.
PenTest+ is the only exam on the market to include all aspects of vulnerability management. It not only covers hands-on vulnerability assessment, scanning, and analysis, but also includes planning, scoping, and managing weaknesses, not just exploiting them.
PenTest+ is the most current penetration testing exam covering the latest techniques against expanded attack surfaces. It is a unique exam that requires a candidate to demonstrate the most relevant pen testing skills for the cloud, hybrid environments, web applications, Internet of Things (IoT), and traditional on-premises.
About the exam
PenTest+ assesses the most up-to-date penetration testing, and vulnerability assessment and management skills necessary to determine the resiliency of the network against attacks. The CompTIA PenTest+ certification exam will verify successful candidates have the knowledge and skills required to:
Plan and scope a penetration testing engagement
Understand legal and compliance requirements
Perform vulnerability scanning and penetration testing using appropriate tools and
techniques, and then analyze the results
Produce a written report containing proposed remediation techniques, effectively
communicate results to the management team, and provide practical recommendations
CompTIA Advanced Security Practitioner (CASP+)
CompTIA Advanced Security Practitioner (CASP+) is an advanced-level cybersecurity certification for security architects and senior security engineers charged with leading and improving an enterprise's cybersecurity readiness.
Why is CASP+ Different?
CASP+ is the only hands-on, performance-based certification for advanced practitioners — not managers — at the advanced skill level of cybersecurity. While cybersecurity managers help identify what cybersecurity policies and frameworks could be implemented, CASP+ certified professionals figure out how to implement solutions within those policies and frameworks.
Unlike other certifications, CASP+ covers both security architecture and engineering – CASP+ is the only certification on the market that qualifies technical leaders to assess cyber readiness within an enterprise, and design and implement the proper solutions to ensure the organization is ready for the next attack.
About the Exam
CASP+ is an advanced-level cybersecurity certification covering technical skills in security architecture and senior security engineering in traditional, cloud, and hybrid environments, governance, risk, and compliance skills, assessing an enterprise's cybersecurity readiness, and leading technical teams to implement enterprise-wide cybersecurity solutions. Successful candidates will have the knowledge required to:
Architect, engineer, integrate, and implement secure solutions across complex environments to support a resilient enterprise
Use monitoring, detection, incident response, and automation to proactively support ongoing security operations in an enterprise environment
Apply security practices to cloud, on-premises, endpoint, and mobile infrastructure, while considering cryptographic technologies and techniques
Consider the impact of governance, risk, and compliance requirements throughout the enterprise